BRUTUS' Web Page
American Pit Bull Terrier / Mixed (short coat) : : Male (neutered) : : Young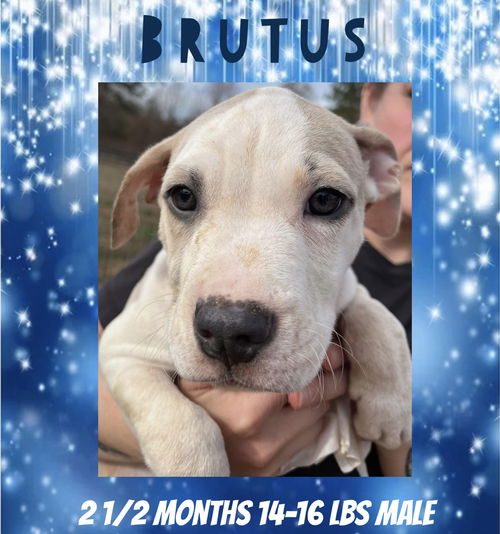 Interested in adopting?
Learn more about the American Pit Bull Terrier.
Print an adoption flyer for BRUTUS!
Please note that we can not guarantee the age, expected weight or breed of any animal. What we provide is our best estimates based on our experience and the information provided by the our medical partners. If breed and eventual size are of great importance we suggest looking into a breed specific rescue or adopting a full grown animal.
Unless otherwise noted, ALL animals are fostered and available for adoption on Long Island, NY.
About BRUTUS

Status: Available for Adoption (adoption info)
Species: Dog
General Color: Tan/Yellow/Fawn with White
Current Size: 15 Pounds
Potential Size: 60 Pounds
Current Age: 2 Months 19 Days (best estimate)

Location: NY 11797
Declawed: No
Housetrained: No
Meet Brutus, a delightful ball of fur overflowing with love! This tiny pup has spent his initial weeks nestled among his 9 siblings, fostering a heart full of affection and a playful spirit. Now, he's all set to venture into the world, eager to find his forever home and sprinkle endless joy into the lives of those around him. With a gentle soul and an abundance of love to give, Brutus is ready to embark on a wonderful journey, seeking a place to call his own and share endless cuddles and happiness with a loving family.
More about BRUTUS
At the time of adoption a donation is required before the animal is placed in an adoptive home.
$600 - All dogs
$300 - For dogs deemed seniors by LCAR (generally 8rs and older)
$200- For senior citizens (over 65 yrs of age) adopting senior dogs
$150 - For Kittens
$125 - For Cats
*IF YOU ARE INTERESTED IN THIS ANIMAL, PLEASE SUBMIT AN ADOPTION APPLICATION ( Dog / Cat ) AND ONCE APPROVED, SOMEONE FROM THIS ORGANIZATION WILL CONTACT YOU. PLEASE NOTE THAT ALL AVAILABLE INFORMATION ABOUT THIS PET IS LISTED ABOVE.