YOSEMITE's Web Page
Tabby / Domestic Short Hair / Mixed (short coat) : : Male (neutered) : : Baby : : Medium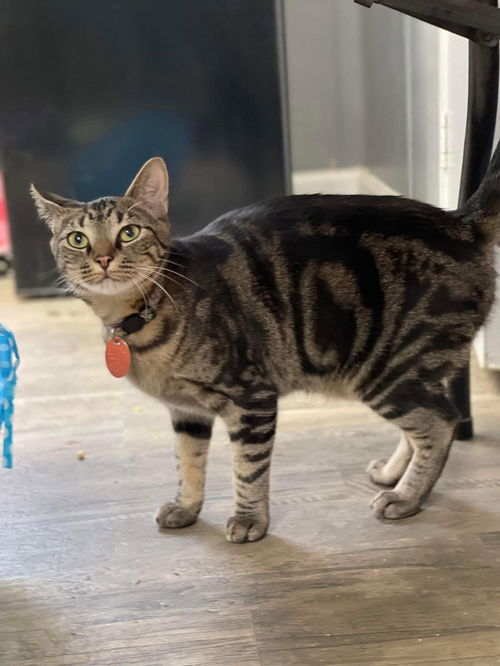 Please note that we can not guarantee the age, expected weight or breed of any animal. What we provide is our best estimates based on our experience and the information provided by the our medical partners. If breed and eventual size are of great importance we suggest looking into a breed specific rescue or adopting a full grown animal.
Unless otherwise noted, ALL animals are fostered and available for adoption on Long Island, NY.
About YOSEMITE

Status:

Adopted!

Species: Cat
General Color: Brown
Current Size: 6.5 Pounds
Potential Size: 9 Pounds
Current Age: 10 Months (best estimate)

Location: PO Box 1661 Southampton NY 11969 (631) 478-6844 x3
Microchipped: Yes
Fence Required: No
Declawed: No
Housetrained: Yes
Exercise Needs: Not Required
Reaction to New People: Friendly
We've been working with Fairfield County Animal Control and Adoption Center for quite a bit of time and here's what we can tell you. They are overcrowded…packed to the max with amazing cats and kittens. Babies grow up behind bars and adults just sit there rotting in a cage. They do the absolute best they can, but that's where they need our help. We need to help these cats move onto big and better futures.
A bunch of adolescent kittens have joined our crew and we're hoping these babies get the chance to find homes before their first birthday rolls around. They grew up in the shelter; they were the unwanted who came in as teeny, tiny babies and are now leaving the shelter to our foster homes as babies who grew up behind bars. They are sweet, each of them with a kind heart. They love other cats, would be fine with dogs and are adjusting to family cat life. They like toys, finding the coziest of spots and lounging around. Any of them deserve their homes and we are eagerly searching!
All of our babies are spayed/neutered, FIV/LEUK negative, UTD on vaccines for their age, dewormed, and microchipped.
Our cats (and rescue) are located on Long Island, NY, and YES, we do adopt out of state within reasonable distance! For more information, more pictures, inquiries and applications about our cats, please visit LCARescue.org
More about YOSEMITE
Good with Dogs
,
Good with Cats
,
Good with Kids
,
Good with Adults
,
Good for Seniors/Elderly
,
Does not require a yard
,
Likes to play with toys
,
Likes to be in your lap
,
Apartment OK
,
Playful
,
Affectionate
At the time of adoption a donation is required before the animal is placed in an adoptive home.
$600 - All dogs
$300 - For dogs deemed seniors by LCAR (generally 8rs and older)
$200- For senior citizens (over 65 yrs of age) adopting senior dogs
$150 - For Kittens
$125 - For Cats
*IF YOU ARE INTERESTED IN THIS ANIMAL, PLEASE SUBMIT AN ADOPTION APPLICATION ( Dog / Cat ) AND ONCE APPROVED, SOMEONE FROM THIS ORGANIZATION WILL CONTACT YOU. PLEASE NOTE THAT ALL AVAILABLE INFORMATION ABOUT THIS PET IS LISTED ABOVE.