RUSTY's Web Page
Domestic Short Hair / Mixed : : Male (neutered)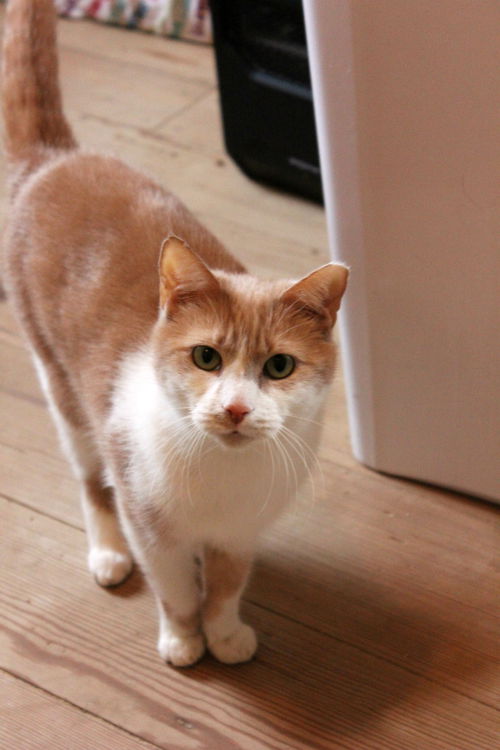 I would love you more than you can imagine.
Please sponsor me!
Please note that we can not guarantee the age, expected weight or breed of any animal. What we provide is our best estimates based on our experience and the information provided by the our medical partners. If breed and eventual size are of great importance we suggest looking into a breed specific rescue or adopting a full grown animal.
Unless otherwise noted, ALL animals are fostered and available for adoption on Long Island, NY.
About RUSTY

Status: Available for Sponsorship
Species: Cat
General Color: Orange and White
Current Age: 11 Years 9 Months (best estimate)

Location: SC - FARM RESIDENT
Sweet Rusty is a part of a group of 9 cats who currently live at the farm who came from the same home. Rusty's beloved owner passed away and unfortunately there was no one else in the family who could take on the responsibility of taking care of all of them.
Rusty's family reached out to the farm and luckily we were able to take all of them.
After the huge change of losing his owner and his home, Rusty was extremely scared when he came to the farm. He has definitely come a long way with a few of our staff members who he adores. But he still a ways to go.
You can help fund Rusty's long term care at the farm by joining our Animal Angels Program and becoming his monthly sponsor.
Monthly sponsors will provide a steady stream of funds that ensures Rusty can live the rest of his days happy and healthy here at the farm. Funds will go directly to his care for food, medical treatments, safe housing, and the love and care of our wonderful staff.
Monthly sponsors will receive an update every month with a picture of how your consistent funds are helping Rusty and the other animals here at the Farm.
Special Needs: https://LCARESCUE.networkforgood.com/projects/152302-nycats
At the time of adoption a donation is required before the animal is placed in an adoptive home.
$500 - All dogs
$250 - For dogs deemed seniors by LCAR (generally 10yrs and older)
$150 - For senior citizens (over 65 yrs of age) adopting senior dogs
$150 - For Kittens
$100 - For Cats
*IF YOU ARE INTERESTED IN THIS ANIMAL, PLEASE SUBMIT AN ADOPTION APPLICATION ( Dog / Cat ) AND ONCE APPROVED, SOMEONE FROM THIS ORGANIZATION WILL CONTACT YOU. PLEASE NOTE THAT ALL AVAILABLE INFORMATION ABOUT THIS PET IS LISTED ABOVE.